Mary Williams | The Lost Daughter
7PM THURSDAY, APRIL 18
Mary Williams: The Lost Daughter
Mary Williams, daughter of the Black Panther movement and adopted as a teenager by actress Jane Fonda, shares her memoir The Lost Daughter.
As she grew up in 1970s Oakland, role models for Williams were few and far between: her father was often in prison, her older sister was a teenage prostitute, and her hot-tempered mother struggled to raise five children alone. When Mary was thirteen, she was invited to spend a summer at Jane Fonda's Laurel Springs Children's Camp. Over the course of several summers, she began confiding in Fonda about her difficulties at home. Eventually, Fonda invited her to come live with her family. Practically overnight, Mary left the streets of Oakland for the star-studded climes of Santa Monica. Fonda became the parent Mary had never had—helping with homework, listening to adolescent fears, celebrating achievements, and offering inspiration, encouragement, and adventure at every turn. Her most courageous trip, though, involved returning to Oakland thirty years later and reconnecting with her biological mother and family, many of whom she hadn't seen since the day she left home.
The Lost Daughter
is a chronicle of her journey back in time, an exploration of fractured family bonds, and a moving epic of self-discovery.
Watch Jane Fonda and Mary Williams on Oprah's Next Chapter »
EVENT DETAILS
TICKET (admits two) is free when you purchase The Lost Daughter from Changing Hands.
Letter groups (printed on top of ticket) will be called at 6pm to fill seats and designated standing room. If available, seating and standing room opens to those without tickets at 6:45pm.
Space cannot be guaranteed for late arrivals.
Booksigning line forms by assigned letter group after the presentation. Those without tickets may get their books signed after ticket-holders, if time allows.
Event details may be subject to unannounced changes.
ABOUT THE AUTHOR
MARY WILLIAMS is an Ithaca resident, Cornell graduate, artist, and writer. She is the author of the children's book
Brothers in Hope: The Story of the Lost Boys of Sudan
. She has also written for
McSweeney's
and
O: The Oprah Magazine
. She lives in the Southwest.

$26.95
ISBN: 9780399160868
Availability: Hard to Find
Published: Blue Rider Press - April 9th, 2013
---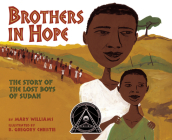 $18.95
ISBN: 9781584302322
Availability: Hard to Find
Published: Lee & Low Books - April 1st, 2013
---