Gayle's April Letter
Dear Bookstore Friends,
We all need things in our lives that make our hearts open wide and remind us that there is goodness in the world. I pay attention to these markers and rejoice in them. My grandson padding down the hallway in the early morning dragging his security blanket (he calls it his "Meow Meow"), wanting to cuddle in bed with us, and then asking sweetly if I'd make him matzoh pancakes for breakfast.
A lovely dinner in San Francisco with my sister and brother-in-law with scrumptious food and a heart-to-heart talk about our lives, our hopes and our dreams. A conversation inThe Newton

Commons with a customer who is working to bring organic food to the masses at prices anyone can afford. A letter from a friend thanking me for sending her a

J.K. Rowling mystery

that included references to Catullus and a recommendation that I read a book she loved called Of Things Gone Astray. My cat, Oliver, rolling in pure joy in the dirt, almost camouflaged against the rocks, and then sidling up to me for a scratch behind the ears. Discovering a new wildflower with orchid-like blossoms that I have never seen before growing under our Palo Verde trees. These are precious moments that counter for me the bad news I hear on the radio and read in newspapers or online.




Last year I had another of these defining moments when I watched Dan Barber give a TED talk on sustainability in the food chain — How I Fell in Love with a Fish, about fish farmed in Spain that are healthy, delicious, and not only do not harm the environment but enhance it. He has

another talk

on humanely produced

foie gras

that will knock your socks off!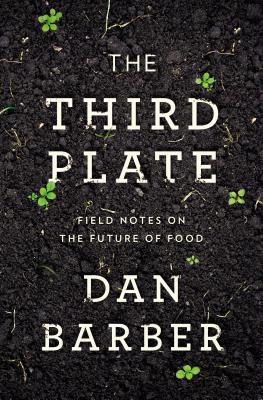 I was so taken with him that I read his book,

The Third Plate: Field Notes on the Future of Food, in which he presents innovative ideas about how we might think about eating and where our food comes from — a plate of grains, vegetables, some meat or fish, all grown with ecological awareness and commitment to sustainability. We've been taught of late to eat fast and cheap, but Barber suggests we retrain our palates away from blandness and uniformity and discover unique and distinctive flavors in foods grown locally by farmers who are protecting, not exploiting, our farmland.



After reading his book I tried to get him to come to Arizona so that all of you could meet him. It didn't happen last year but it is happening this week! On

Tuesday, April 14, Dan is visiting our Phoenix store for a talk and booksigning. Before the event,

Southern Rail

chef Justin Beckett is cooking a three-course, locally-sourced dinner, which includes a signed copy of

The Third Plate

and admission to

Barber's talk and booksigning. I hope you can join us for one or both of these fun, enlightening events.



Come visit this month and share your heart-opening moments. Tell us what you're reading, what you're excited about. Browse our cookbooks for new ideas about how to cook interesting meals that fill you up emotionally as well as physically. Find a fellow reader and strike up a conversation; enjoy a cup of coffee or tea and a scone at

Wildflower

or

First Draft. Celebrate spring in Arizona.



~Gayle~