Dear Bookstore Friends,
It seems warmer weather is starting early this year. Temperatures in the high 80s and low 90s in February and March strike me as a clear indicator that weather patterns are changing, and not necessarily for the better. Oranges on our late-ripening tree just got sweet enough to enjoy, and now the tree is in full bloom with next year's crop trying to get started before their usual time. Same story with my vegetable garden — lettuce, kale, and parsley bolting before we've had time to eat the winter crop. Is it global warming or just an unusually early spring?

In any case, the parking lot at the Mariners' Spring Training stadium was full of cars, and the outdoor patio at Southern Rail next door to our Phoenix store was crowded all week, and when I tried to book a bed-and-breakfast in Patagonia for next weekend, there was no availability. It looks like warm weather works for lots of people, even if it isn't so good for the environment in the long run!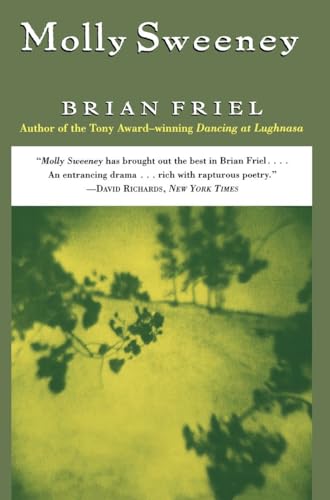 Speaking of spring, St. Patrick's Day, a holiday that encourages all things Irish and drinking great beers, is coming soon and I wanted to let you know of a special event we're having at Changing Hands Phoenix. At 7pm on Thursday, March 17th, Arizona Readers Theater is doing a reading of Brian Friel's brilliant play, Molly Sweeney. It's the story of a married couple, Molly and Frank, who live in a remote Irish village. Molly has been blind since infancy, but now a surgeon believes he may be able to restore her sight. In a series of interwoven monologues, Brian Friel takes us into the minds of three people with very different expectations of what will happen when Molly regains her vision.

Don Erickson, a past Changing Hands employee, and two other excellent professional actors, Janet Arnold and Tom Rees, are busy rehearsing for this performance. Even though they don't memorize their lines — they read them — it will make for a fun evening. And of course we'll have Irish beer available at First Draft Book Bar, along with pretzels and pub cheese.

Thinking about sitting on your patio, finding a park bench or a quiet nook and reading a great new book? My latest favorites: When Breath Becomes Air (Paul Kalanthi); In Other Words (Jhumpa Lahiri); Bill Bryson's ramblings around England, The Road to Little Dribbling; and a great debut novel called The Nest (Cynthia D'Aprix Sweeney). There're more: Lee Smith's memoir, Dimestore; another great debut, Daredevils (Shawn Vestal); a brilliant novel called Innocents and Others (Dana Spiotta); and an amazing collection of short stories, Daydreams of Angels (Heather O'Neill).
So many books, so little time, but, boy oh boy, when you do sit down, what joy and enlightenment! Enjoy the spring, even if it's a bit early. Visit us and meet a few authors, talk to a bookseller, drink a beer at First Draft, and enjoy the Brian Friel play on St. Patty's Day.



~Gayle~