[Continued from May 2010 Bookstories Newsletter - New Fiction & Nonfiction]

Pygmy by Chuck Palahniuk / $14.95 / Paperback

A gang of adolescent terrorists, a spelling bee, and a terrible plan masquerading as a science project: This is Operation Havoc.

Pygmy is one of a handful of young adults from a totalitarian state sent to the US disguised as exchange students. Living with American families to blend in, they are planning an unspecified act of massive terrorism that will bring this big dumb country and its fat dumb inhabitants to their knees. Palahniuk depicts Midwestern life through the eyes of this indoctrinated little killer in a cunning double-edged satire of American xenophobia.

The City & The City by China Mieville / $15.00 / Paperback

When a murdered woman is found in the city of Beszel, somewhere at the edge of Europe, it looks to be a routine case for Inspector Tyador Borlú of the Extreme Crime Squad. To investigate, Borlú must travel from the decaying Beszel to its equal, rival, and intimate neighbor, the vibrant city of Ul Qoma. But this is a border crossing like no other, a journey as psychic as it is physical, a seeing of the unseen. With Ul Qoman detective Qussim Dhatt, Borlú is enmeshed in a sordid underworld of nationalists intent on destroying their neighboring city, and unificationists who dream of dissolving the two into one. As the detectives uncover the dead woman's secrets, they begin to suspect a truth that could cost them more than their lives. What stands against them are murderous powers in Beszel and in Ul Qoma: and, most terrifying of all, that which lies between these two cities.

The Map of True Places by Brunonia Barry / $25.99 / Hardcover

Zee Finch has come a long way from a motherless childhood spent stealing boats—a talent that earned her the nickname Trouble. She's now a respected psychotherapist working with the world-famous Dr. Liz Mattei. She's also about to marry one of Boston's most eligible bachelors. But the suicide of Zee's patient Lilly Braedon throws Zee into emotional chaos and takes her back to places she though she'd left behind.

What starts as a brief visit home to Salem after Lilly's funeral becomes the beginning of a larger journey for Zee. Her father, Finch, long ago diagnosed with Parkinson's disease, has been hiding how sick he really is. His longtime companion, Melville, has moved out, and it now falls to Zee to help her father through this difficult time. Their relationship, marked by half-truths and the untimely death of her mother, is strained and awkward.

Overwhelmed by her new role, and uncertain about her future, Zee destroys the existing map of her life and begins a new journey, one that will take her not only into her future but into her past as well. Like the sailors of old Salem who navigated by looking at the stars, Zee has to learn to find her way through uncharted waters to the place she will ultimately call home.

This Body of Death by Elizabeth George / $28.99 / Hardcover

On compassionate leave after the murder of his wife, Thomas Lynley is called back to Scotland Yard when the body of a woman is found stabbed and abandoned in an isolated London cemetery. His former team doesn't trust the leadership of their new department chief, Isabelle Ardery, whose management style seems to rub everyone the wrong way. In fact, Lynley may be the sole person who can see beneath his superior officer's hard-as-nails exterior to a hidden—and possibly attractive—vulnerability.

While Lynley works in London, his former colleagues Barbara Havers and Winston Nkata follow the murder trail south to the New Forest. There they discover a beautiful and strange place where animals roam free, the long-lost art of thatching is very much alive, and outsiders are not entirely welcome. What they don't know is that more than one dark secret lurks among the trees, and that their investigation will lead them to an outcome that is both tragic and shocking.

A multilayered jigsaw puzzle of a story skillfully structured to keep readers guessing until the very end, This Body of Death is a magnificent achievement from a writer at the peak of her powers.

Island Beneath the Sea by Isabel Allende / $26.99 / Hardcover

Born a slave on the island of Saint-Domingue, Zarité -- known as Tété -- is the daughter of an African mother she never knew and one of the white sailors who brought her into bondage. Though her childhood is one of brutality and fear, Tété finds solace in the traditional rhythms of African drums and in the voodoo loas she discovers through her fellow slaves.

When twenty-year-old Toulouse Valmorain arrives on the island in 1770, it's with powdered wigs in his baggage and dreams of financial success in his mind. But running his father's plantation, Saint Lazare, is neither glamorous nor easy. It will be eight years before he brings home a bride -- but marriage, too, proves more difficult than he imagined. And Valmorain remains dependent on the services of his teenaged slave.

Spanning four decades, Island Beneath the Sea is the moving story of the intertwined lives of Tété and Valmorain, and of one woman's determination to find love amid loss, to offer humanity though her own has been battered, and to forge her own identity in the cruellest of circumstances.

Dead in the Family by Charlaine Harris / $25.95 / Hardcover

The #1 New York Times bestselling Sookie Stackhouse series- the basis for HBO®'s True Blood-continues!

After enduring torture and the loss of loved ones during the brief but deadly Faery War, Sookie Stackhouse is hurt and she's angry. Just about the only bright spot in her life is the love she thinks she feels for vampire Eric Northman. But he's under scrutiny by the new Vampire King because of their relationship. And as the political implications of the Shifters coming out are beginning to be felt, Sookie's connection to the Shreveport pack draws her into the debate. Worst of all, though the door to Faery has been closed, there are still some Fae on the human side-and one of them is angry at Sookie. Very, very angry...

Girl in Translation by Jean Kwok / $25.95 / Hardcover

When Kimberly Chang and her mother emigrate from Hong Kong to Brooklyn squalor, she quickly begins a secret double life: exceptional schoolgirl during the day, Chinatown sweatshop worker in the evenings. Disguising the more difficult truths of her life-like the staggering degree of her poverty, the weight of her family's future resting on her shoulders, or her secret love for a factory boy who shares none of her talent or ambition-Kimberly learns to constantly translate not just her language but herself back and forth between the worlds she straddles.

Through Kimberly's story, author Jean Kwok, who also emigrated from Hong Kong as a young girl, brings to the page the lives of countless immigrants who are caught between the pressure to succeed in America, their duty to their family, and their own personal desires, exposing a world that we rarely hear about. Written in an indelible voice that dramatizes the tensions of an immigrant girl growing up between two cultures, surrounded by a language and world only half understood, Girl in Translation is an unforgettable and classic novel of an American immigrant-a moving tale of hardship and triumph, heartbreak and love, and all that gets lost in translation.

The Selected Works of T. S. Spivet by Reif Larsen / $16.00 / Paperback

When twelve-year-old genius cartographer T. S. Spivet receives an unexpected phone call from the Smithsonian announcing he has won the prestigious Baird Award, life as normal-if you consider mapping dinner table conversations normal-is interrupted and a wild cross-country adventure begins, taking T. S. from his family home just north of Divide, Montana, to the museum's hallowed halls.

There are some answers here on the road from Divide, and some new questions, too. How does one map the delicate lessons learned about family, or communicate the ebbs and flows of heartbreak, loneliness, and love?

Chef by Jaspreet Singh / $14.00 / Paperback

Kirpal Singh is riding the slow train to Kashmir. With India passing by his window, he reflects on his destination, which is also his past: a military camp to which he has not returned for fourteen years. Kirpal, called Kip, is shy and not yet twenty when he arrives for the first time at General Kumar's camp, nestled in the shadow of the Siachen Glacier. At twenty thousand feet, the glacier makes a forbidding battlefield; its crevasses claimed the body of Kip's father. Kip becomes an apprentice under the camp's chef, Kishen, a fiery mentor who guides him toward the heady spheres of food and women. In this place of contradictions, erratic violence, and extreme temperatures, Kip learns to prepare local dishes and delicacies from around the globe. Even as months pass, Kip, a Sikh, feels secure in his allegiance to India, firmly on the right side of this interminable conflict. Then, one muggy day, a Pakistani "terrorist" with long, flowing hair is swept up on the banks of the river and changes everything. Mesmeric, mournful, and intensely lyrical, Chef is a brave and compassionate debut about hope, love, and memory set against the devastatingly beautiful, war-scarred backdrop of occupied Kashmir.

The Good Son by Michael Gruber / $26.00 / Hardcover

Somewhere in Pakistan, Sonia Laghari and eight fellow members of a symposium on peace are being held captive by armed terrorists. Sonia, a deeply religious woman as well as a Jungian psychologist, has become the de facto leader of the kidnapped group. While her son Theo, an ex-Delta soldier, uses his military connections to find and free the victims, Sonia tries to keep them all alive by working her way into the kidnappers' psyches and interpreting their dreams. With her knowledge of their language, her familiarity with their religion, and her Jungian training, Sonia confounds her captors with her insights and beliefs. Meanwhile, when the kidnappers decide to kill their captives, one by one, in retaliation for perceived crimes against their country, Theo races against the clock to try and save their lives.

The Long Song by Andrea Levy / $26.00 / Hardcover

Small Island introduced Andrea Levy to America and was acclaimed as "a triumph" (San Francisco Chronicle). It won both the Orange Prize and the Whitbread Book of the Year Award, and has sold over a million copies worldwide. With The Long Song, Levy once again reinvents the historical novel.

Told in the irresistibly willful and intimate voice of Miss July, with some editorial assistance from her son, Thomas, The Long Song is at once defiant, funny, and shocking. The child of a field slave on the Amity sugar plantation, July lives with her mother until Mrs. Caroline Mortimer, a recently transplanted English widow, decides to move her into the great house and rename her "Marguerite."

Resourceful and mischievous, July soon becomes indispensable to her mistress. Together they live through the bloody Baptist war, followed by the violent and chaotic end of slavery. Taught to read and write so that she can help her mistress run the business, July remains bound to the plantation despite her "freedom." It is the arrival of a young English overseer, Robert Goodwin, that will dramatically change life in the great house for both July and her mistress. Prompted and provoked by her son's persistent questioning, July's resilience and heartbreak are gradually revealed in this extraordinarily powerful story of slavery, revolution, freedom, and love.

Valeria's Last Stand by Marc Fitten / $15.00 / Paperback

The Hungarian village of Zivatar may be isolated, but it is not completely immune to the changes sweeping the country. The Soviets have left, and the villagers are warming to the blessings of capitalism, expensive cars, cheap women, and California fruit. It's all too much for Valeria, the village grouch. And yet, Valeria is not immune to change either. Her routine trip to the market leads to unexpected love, and sets off a chain reaction through the entire village. A remarkably accomplished debut novel, Valeria's Last Stand contemplates love, lust, tradition, and transition with wisdom and warmth.


Wilson by Daniel Clowes / $21.95 / Hardcover

Meet Wilson, an opinionated middle-aged loner who loves his dog and quite possibly no one else. In an ongoing quest to find human connection, he badgers friend and stranger alike into a series of onesided conversations, punctuating his own lofty discursions with a brutally honest, self-negating sense of humor. After his father dies, Wilson, now irrevocably alone, sets out to find his ex-wife with the hope of rekindling their long-dead relationship, and discovers he has a teenage daughter, born after the marriage ended and given up for adoption. Wilson eventually forces all three to reconnect as a family—a doomed mission that will surely, inevitably backfire.

In the first all-new graphic novel from one of the leading cartoonists of our time, Daniel Clowes creates a thoroughly engaging, complex, and fascinating portrait of the modern egoist—outspoken and oblivious to the world around him.Working in a single-page-gag format and drawing in a spectrumof styles, the cartoonist of GhostWorld, Ice Haven, and David Boring gives us his funniest and most deeply affecting novel to date.


New Non-Fiction


Hellhound On His Trail by Hampton Sides / $28.95 / Hardcover

On April 23, 1967, Prisoner #416J, an inmate at the notorious Missouri State Penitentiary, escaped in a breadbox. Fashioning himself Eric Galt, this nondescript thief and con man—whose real name was James Earl Ray—drifted through the South, into Mexico, and then Los Angeles, where he was galvanized by George Wallace's racist presidential campaign.

On February 1, 1968, two Memphis garbage men were crushed to death in their hydraulic truck, provoking the exclusively African American workforce to go on strike. Hoping to resuscitate his faltering crusade, King joined the sanitation workers' cause, but their march down Beale Street, the historic avenue of the blues, turned violent. Humiliated, King fatefully vowed to return to Memphis in April.

With relentless storytelling drive, Sides follows Galt and King as they crisscross the country, one stalking the other, until the crushing moment at the Lorraine Motel when the drifter catches up with his prey. Against the backdrop of the resulting nationwide riots and the pathos of King's funeral, Sides gives us a riveting cross-cut narrative of the assassin's flight and the sixty-five-day search that led investigators to Canada, Portugal, and England—a massive manhunt ironically led by Hoover's FBI.

Magnificent in scope, drawing on a wealth of previously unpublished material, this nonfiction thriller illuminates one of the darkest hours in American life—an example of how history is so often a matter of the petty bringing down the great.

Manhood for Amateurs by Michael Chabon / $14.99 / Paperback

A shy manifesto, an impractical handbook, the true story of a fabulist, an entire life in parts and pieces, Manhood for Amateurs is the first sustained work of personal writing from Pulitzer Prize-winning author Michael Chabon. In these insightful, provocative, slyly interlinked essays, one of our most brilliant and humane writers addresses with his characteristic warmth and lyric wit the all-important question: What does it mean to be a man today?


The Great Reset by Richard Florida / $26.99 / Hardcover

We tend to view prolonged economic downturns, such as the Great Depression of the 1930s and the Long Depression of the late nineteenth century, in terms of the crisis and pain they cause. But history teaches us that these great crises also represent opportunities to remake our economy and society and to generate whole new eras of economic growth and prosperity. In terms of innovation, invention, and energetic risk taking, these periods of "creative destruction" have been some of the most fertile in history, and the changes they put into motion can set the stage for full-scale recovery.

In The Great Reset, bestselling author and economic development expert Richard Florida provides an engaging and sweeping examination of these previous economic epochs, or "resets." He distills the deep forces that have altered physical and social landscapes and eventually reshaped economies and societies. Looking toward the future, Florida identifies the patterns that will drive the next Great Reset and transform virtually every aspect of our lives—from how and where we live, to how we work, to how we invest in individuals and infrastructure, to how we shape our cities and regions. Florida shows how these forces, when combined, will spur a fresh era of growth and prosperity, define a new geography of progress, and create surprising opportunities for all of us.

The Big Leap by Gay Hendricks / $14.99 / Paperback

Most of us believe that we will finally feel satisfied and content with our lives when we get the good news we have been waiting for, find a healthy relationship, or achieve one of our personal goals. However, this rarely happens. Good fortune is often followed by negative emotions that overtake us and result in destructive behaviors. "I don't deserve this," "this is too good to be true," or any number of harmful thought patterns prevent us from experiencing the joy and satisfaction we have earned. Sound familiar? This is what New York Times bestselling author Gay Hendricks calls the Upper Limit Problem, a negative emotional reaction that occurs when anything positive enters our lives. The Upper Limit Problem not only prevents happiness, but it actually stops us from achieving our goals. It is the ultimate life roadblock.

In The Big Leap, Hendricks reveals a simple yet comprehensive program for overcoming this barrier to happiness and fulfillment, presented in a way that engages both the mind and heart. Working closely with more than one thousand extraordinary achievers in business and the arts—from rock stars to Fortune 500 executives—whose stories are featured in these pages, the book describes the four hidden fears that are at the root of the Upper Limit Problem.

American on Purpose by Craig Ferguson / $14.99 / Paperback

In American on Purpose, Craig Ferguson delivers a moving and achingly funny memoir of living the American dream as he journeys from the mean streets of Glasgow, Scotland, to the comedic promised land of Hollywood. Along the way he stumbles through several attempts to make his mark—as a punk rock musician, a construction worker, a bouncer, and, tragically, a modern dancer.

To numb the pain of failure, Ferguson found comfort in drugs and alcohol, addictions that eventually led to an aborted suicide attempt. (He forgot to do it when someone offered him a glass of sherry.) But his story has a happy ending: success on the hit sitcom The Drew Carey Show, and later as the host of CBS's Late Late Show. By far Ferguson's greatest triumph was his decision to become a U.S. citizen, a milestone he achieved in early 2008.

A Nation Rising by Kenneth C. Davis / $27.99 / Hardcover

Following his New York Times bestseller America's Hidden History, Kenneth C. Davis explores the gritty first half of the nineteenth century—among the most tumultuous periods in this nation's short life.

In the dramatic period that spans roughly from 1800 through 1850, the United States emerged from its inauspicious beginning as a tiny newborn nation, struggling for survival and political cohesion on the Atlantic seaboard, to a near-empire that spanned the continent. It was a time in which the "dream of our founders" spread in ways that few men of that Revolutionary Generation could possibly have imagined. And it was an era that ultimately led to the great, tragic conflagration that followed—the American Civil War.

The Bedwetter by Sarah Silverman / $25.99 / Hardcover

From the outrageously filthy and oddly innocent comedienne comes a memoir that is at once shockingly personal, surprisingly poignant, and still laugh-out-loud funny. With her signature taboo-breaking humor, Silverman writes on everything from her epic struggle with hairy arms (there's not enough wax in the world) to the death of her infant brother.
Drink This, Not That! by David Zinczenko / $19.99 / Paperback

The authors of the best-selling Eat This, Not That! series return with the ultimate, no-diet treatise on America's favorite beverages now make up nearly 25 percent of the average American's daily caloric intake—a number that has almost doubled over the past 40 years—and the once-simple decision of what to drink has become complex thanks to an expanding number of beverages in the marketplace. Having tamed eating choices in their best-selling Eat This, Not That! books, Dave Zinczenko and Matt Goulding now address America's ever-growing "drinking problem." Drink This, Not That! offers simple, no-nonsense advice on the healthiest beverages to drink in any given situation


Fingerprints of God by Barbara Bradley Hagerty / $16.00 / Paperback

Is spiritual experience real or a delusion? Are there realities that we can experience but not easily measure? Does your consciousness depend entirely on your brain, or does it extend beyond? In Fingerprints of God, award-winning journalist Barbara Bradley Hagerty delves into the discoveries science is making about how faith and spirituality affect us physically and emotionally as it attempts to understand whether the ineffable place beyond this world can be rationally -even scientifically-explained.

Hagerty interviews some of the world's top scientists to describe what their groundbreaking research reveals about our human spiritual experience. From analyses of the brain functions of Buddhist monks and Carmelite nuns, to the possibilities of healing the sick through directed prayer, to what near-death experiences illuminate about the afterlife, Hagerty reaches beyond what we think we know to understand what happens to us when we believe in a higher power.

If the Buddha Had Kids by Charlotte Kasl / $14.00 / Paperback

From the terrible twos to the teenage years-Zen wisdom for every parent

The wise and insightful If the Buddha books have won Charlotte Kasl thousands of devoted readers. In her latest work she turns her attention to parenthood, a stage of life that leaves most of us searching for answers. If the Buddha Had Kids applies Kasl's signature blend of spiritual guidelines, exercises, and practical advice to help parents raise peacemakers in our increasingly turbulent times, emphasizing that finding peace within a family is the first step towards creating a peaceful world. In an age where most kids clock more time with electronic devices than their parents and dinner is often fast food on the way to a soccer game, this gentle volume will appeal to the legions of readers eager for an enlightened alternative to mainstream parenting books.

The Last Stand by Nathaniel Philbrick / $30.00 / Hardcover

Little Bighorn and Custer are names synonymous in the American imagination with unmatched bravery and spectacular defeat. Mythologized as Custer's Last Stand, the June 1876 battle has been equated with other famous last stands, from the Spartans' defeat at Thermopylae to Davy Crockett at the Alamo.

In his tightly structured narrative, Nathaniel Philbrick brilliantly sketches the two larger-than-life antagonists: Sitting Bull, whose charisma and political savvy earned him the position of leader of the Plains Indians, and George Armstrong Custer, one of the Union's greatest cavalry officers and a man with a reputation for fearless and often reckless courage. Philbrick reminds readers that the Battle of the Little Bighorn was also, even in victory, the last stand for the Sioux and Cheyenne Indian nations. Increasingly outraged by the government's Indian policies, the Plains tribes allied themselves and held their ground in southern Montana. Within a few years of Little Bighorn, however, all the major tribal leaders would be confined to Indian reservations.

Throughout, Philbrick beautifully evokes the history and geography of the Great Plains with his characteristic grace and sense of drama. The Last Stand is a mesmerizing account of the archetypal story of the American West, one that continues to haunt our collective imagination.

The Science of Premonitions by Larry Dossey / $16.00 / Paperback

In the New York Times bestseller, Healing Words, Dr. Dossey investigated why patients surrounded by prayer healed faster and more completely than patients who were not. Now, in The Science of Premonitions, Dossey uses cutting-edge science to make a convincing case that premonitions are real, common, and helpful. Then Dossey explores research on mindfulness and meditation to show readers how they can cultivate and take advantage of premonitions. Packed with compelling case studies and thought-provoking findings, this is a book for the skeptical mind and the believer's heart, and will be greeted warmly by "anyone who is interested in knowing about the deeper meaning of our existence." (Deepak Chopra, M.D.)

Shop Class as Soulcraft by Matthew B. Crawford / $15.00 / Paperback

Called "the sleeper hit of the publishing season" (The Boston Globe), Shop Class as Soulcraft became an instant bestseller, attracting readers with its radical (and timely) reappraisal of the merits of skilled manual labor. On both economic and psychological grounds, author Matthew B. Crawford questions the educational imperative of turning everyone into a "knowledge worker," based on a misguided separation of thinking from doing. Using his own experience as an electrician and mechanic, Crawford presents a wonderfully articulated call for self-reliance and a moving reflection on how we can live concretely in an ever more abstract world.


Spoon-Fed by Kim Severson / $25.95 / Hardcover

Somewhere between the lessons her mother taught her as a child and the ones she is now trying to teach her own daughter, Kim Severson stumbled. She lost sight of what mattered, of who she was and who she wanted to be, and of how she wanted to live her life. It took a series of women cooks to reteach her the life lessons she forgot-and some she had never learned in the first place. Some as small as a spoonful, and others so big they saved her life, the best lessons she found were delivered in the kitchen.

Told in Severson's frank, often funny, always perceptive style, Spoon Fed weaves together the stories of eight important cooks with the lessons they taught her-lessons that seemed to come right when she needed them most. We follow Kim's journey from an awkward adolescent to an adult who channeled her passions into failing relationships, alcohol, and professional ambition, almost losing herself in the process. Finally as Severson finds sobriety and starts a family of her own, we see her mature into a strong, successful woman, as we learn alongside her.

An emotionally rich, multilayered memoir and an inspirational, illuminating series of profiles of the most influential women in the world of food, Spoon Fed is Severson's story and the story of the women who came before her-and ultimately, a testament to the wisdom that can be found in the kitchen.

A Thousand Sisters by Lisa Shannon / $24.95 / Hardcover

Shannon, the founder of the international organization Run for Congo Women, shares firsthand accounts of her experiences visiting the Congo, the women she's helped, and the relationships she's formed.



Canyon Wilderness of the Southwest by Jon Ortner / $18.95 / Hardcover

Straddling the boarders of Utah, Arizona, Colorado, and New Mexico lies a magnificent wilderness known as the Colorado Plateau. Encompassing over 130,000 square miles, it is a high, eroded tableland of rock, canyon, and desert, and within its boundaries are the greatest concentration of National Parks, National Monuments, State Parks, Wilderness areas, BLM holdings, and Native American tribal lands in America.

This mini edition of the oversized, deluxe Canyon Wilderness of the Southwest is an awe-inspiring visual odyssey through this incredible landscape. Beautifully photographed by Jon Ortner, this little book showcases more than two hundred images, including seventy-five panoramas. Shot in more than fifty locations across a 130,000-square-mile area of Utah and Arizona, there are thirteen geographical areas included in the book: Vermillion Cliffs Wilderness, Bryce Canyon National Park, Zion National Park, Cedar Breaks National Monument, Grand Staircase - Escalante National Monument, Capitol Reef National Park, Arches National Park, Canyonlands National Park, Grand Gulch, Petrified Forest National Park, Hopi Tribal Lands, Grand Canyon National Park, Navajo Tribal Lands.


The Elements of Cooking by Michael Ruhlman / $15.00 / Paperback

In The Elements of Cooking, New York Times bestselling author Michael Ruhlman deconstructs the essential knowledge of the kitchen to reveal what professional chefs know only after years of training and experience. With alphabetically ordered entries and eight beautifully written essays, Ruhlman outlines what it takes to cook well: understanding heat, using the right tools, cooking with eggs, making stock, making sauce, salting food, what a cook should read, and exploring the most important skill to have in the kitchen, finesse. The Elements of Cooking gives everyone the tools they need to go from being a good cook to a great one.


Horse Soldiers by Doug Stanton / $16.00 / Paperback

Horse Soldiers is the dramatic account of a small band of Special Forces soldiers who secretly entered Afghanistan following 9/11 and rode to war on horses against the Taliban. Outnumbered forty to one, they pursued the enemy army across the mountainous Afghanistan terrain and, after a series of intense battles, captured the city of Mazar-i-Sharif, which was strategically essential to defeat their opponent throughout the country.

The bone-weary American soldiers were welcomed as liberators as they rode into the city, and the streets thronged with Afghans overjoyed that the Taliban regime had been overthrown. Then the action took a wholly unexpected turn. During a surrender of six hundred Taliban troops, the Horse Soldiers were ambushed by the would-be POWs. Dangerously overpowered, they fought for their lives in the city's immense fortress, Qala-i-Janghi, or the House of War. At risk were the military gains of the entire campaign: if the soldiers perished or were captured, the entire effort to outmaneuver the Taliban was likely doomed.

Deeply researched and beautifully written, Stanton's account of the Americans' quest to liberate an oppressed people touches the mythic. The soldiers on horses combined ancient strategies of cavalry warfare with twenty-first-century aerial bombardment technology to perform a seemingly impossible feat. Moreover, their careful effort to win the hearts of local townspeople proved a valuable lesson for America's ongoing efforts in Afghanistan.

Ann Frank Authorized Graphic Biography by Sid Jacobson / $16.95 / Paperback

Drawing on the unique historical sites, archives, expertise, and unquestioned authority of the Anne Frank House in Amsterdam, New York Times bestselling authors Sid Jacobson and Ernie Colón have created the first authorized and exhaustive graphic biography of Anne Frank. Their account is complete, covering the lives of Anne's parents, Edith and Otto; Anne's first years in Frankfurt; the rise of Nazism; the Franks' immigration to Amsterdam; war and occupation; Anne's years in the Secret Annex; betrayal and arrest; her deportation and tragic death in Bergen-Belsen; the survival of Anne's father; and his recovery and publication of her astounding diary.


 An Edible History of Humanity by Tom Standage / $16.00 / Paperback

More than simply sustenance, food historically has been a kind of technology, changing the course of human progress by helping to build empires, promote industrialization, and decide the outcomes of wars. Tom Standage draws on archaeology, anthropology, and economics to reveal how food has helped shape and transform societies around the world, from the emergence of farming in China by 7500 b.c. to the use of sugar cane and corn to make ethanol today. An Edible History of Humanity is a fully satisfying account of human history.


The End of Overeating by David A. Kessler / $15.99 / Paperback

Most of us know what it feels like to fall under the spell of food—when one slice of pizza turns into half a pie, or a handful of chips leads to an empty bag. But it's harder to understand why we can't seem to stop eating—even when we know better. When we want so badly to say "no," why do we continue to reach for food? Dr. David Kessler, the dynamic former FDA commissioner who reinvented the food label and tackled the tobacco industry, now reveals how the food industry has hijacked the brains of millions of Americans. The result? America's number-one public health issue. Dr. Kessler cracks the code of overeating by explaining how our bodies and minds are changed when we consume foods that contain sugar, fat, and salt. Food manufacturers create products by manipulating these ingredients to stimulate our appetites, setting in motion a cycle of desire and consumption that ends with a nation of overeaters.

The End of Overeating explains for the first time why it is exceptionally difficult to resist certain foods and why it's so easy to overindulge. Dr. Kessler met with top scientists, physicians, and food industry insiders. The End of Overeating uncovers the shocking facts about how we lost control over our eating habits—and how we can get it back. Dr. Kessler presents groundbreaking research, along with what is sure to be a controversial view inside the industry that continues to feed a nation of overeaters—from popular brand manufacturers to advertisers, chain restaurants, and fast food franchises. For the millions of people struggling with weight as well as for those of us who simply don't understand why we can't seem to stop eating our favorite foods, Dr. Kessler's cutting-edge investigation offers new insights and helpful tools to help us find a solution. There has never been a more thorough, compelling, or in-depth analysis of why we eat the way we do.

Fordlandia by Greg Grandin / $16.00 / Paperback

In 1927, Henry Ford, the richest man in the world, bought a tract of land twice the size of Delaware in the Brazilian Amazon. His intention was to grow rubber, but the project rapidly evolved into a more ambitious bid to export America itself. Fordlandia, as the settlement was called, soon became the site of an epic clash. On one side was the lean, austere car magnate; on the other, the Amazon, the most complex ecological system on the planet. Indigenous workers rejected Ford's midwestern Puritanism, turning the place into a ribald tropical boomtown. And his efforts to apply a system of regimented mass production to the Amazon's diversity resulted in a rash environmental assault that foreshadowed many of the threats laying waste to the rain forest today.


New Kids and Teen Books
Party by Tom Leveen / $16.99 / Hardcover
It's Saturday night in Santa Barbara and school is done for the year. Everyone is headed to the same party. Or at least it seems that way. The place is packed. The beer is flowing. Simple, right? But for 11 different people the motives are way more complicated. As each character takes a turn and tells his or her story, the eleven individuals intersect, and reconnect, collide, and combine in ways that none of them ever saw coming.



Boom! by Mark Haddon / $15.99 / Hardcover

From the moment that Jim and his best friend, Charlie, bug the staff room and overhear two of their teachers speaking to each other in a secret language, they know there's an adventure on its way.

But what does "spudvetch" actually mean, and why do Mr. Kidd's eyes flicker with fluorescent blue light when Charlie says it to him? Perhaps Kidd and Pearce are bank robbers talking in code. Perhaps they're spies. Perhaps they are aliens. Whatever it is, Jimbo and Charlie are determined to find out.

There really is an adventure on its way. A nuclear-powered, one-hundred-ton adventure with reclining seats and a buffet car. And as it gathers speed and begins to spin out of control, it can only end one way . . . with a BOOM!

The Cardturner by Louis Sachar / $17.99 / Hardcover

From the bestselling author of "Holes." As the summer after junior year begins, Alton Richards finds himself becoming intrigued by his great-uncle Lester, by the game of bridge, and especially by a pretty and shy girl. Alton soon struggles to figure out what it all means, and ultimately to figure out the meaning of his own life.



The Rise of Renegade X by Chelsea M. Campbell / $17.99 / Hardcover

Sixteen-year-old Damien Locke has a plan: major in messing with people at the local supervillain university and become a professional evil genius, just like his supervillain mom. But when he discovers the shameful secret she's been hiding all these years, that the one-night stand that spawned him was actually with a superhero, everything gets messed up. His father's too moral for his own good, so when he finds out Damien exists, he actually wants him to come live with him and his goody-goody superhero family. Damien gets shipped off to stay with them in their suburban hellhole, and he has only six weeks to prove he's not a hero in any way, or else he's stuck living with them for the rest of his life, or until he turns eighteen, whichever comes first.

To get out of this mess, Damien has to survive his dad's "flying lessons" that involve throwing him off the tallest building in the city--despite his nearly debilitating fear of heights--thwarting the eccentric teen scientist who insists she's his sidekick, and keeping his supervillain girlfriend from finding out the truth. But when Damien uncovers a dastardly plot to turn all the superheroes into mindless zombie slaves, a plan hatched by his own mom, he discovers he cares about his new family more than he thought. Now he has to choose: go back to his life of villainy and let his family become zombies, or stand up to his mom and become a real hero.

Guardians of Ga'Hoole by Kathryn Lasky / $5.99 / Paperback

Guided by the Knower, Otulissa has studied long in the libraries of the Others. Otulissa embarks on a journey to revitalize academic vigor and historical interest at the Great Tree. "Lost Tales of Ga'Hoole" is the result of her labor.



The 39 Clues Book 9 by Linda Sue Park / $12.99 / Hardcover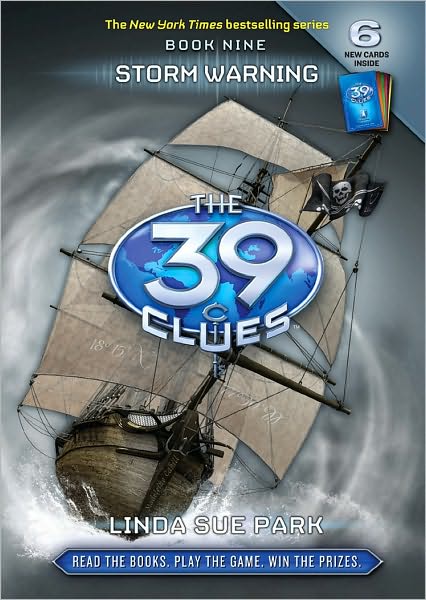 Throughout the hunt for the 39 Clues, Amy and Dan have encountered some of the darkest aspects of history . . . and had to deal with the role their family played. But are they ready for the truth? In this thrilling ninth installment, Amy and Dan hit the high seas as they follow the trail of some infamous ancestors to track down a long lost treasure. However, the real prize isn't hidden in a chest. It's the discovery of the Madrigals' most dangerous secret and, even more shockingly, the true identity of the mysterious man in black.


Easy as Pie by Cari Best / $16.99 / Hardcover

Jacob learned the rules of baking from watching Chef Monty on TV, and now he is ready to make his own peach pie in his Easy-On Oven. Even when things get messy and Jacob's parents say there is no more time for baking, he is determined to see his pie through to the end. Cari Best's tasty text and Melissa Sweet's scrumptious collage illustrations combine to make a picture book as satisfying as a perfect slice of pie.