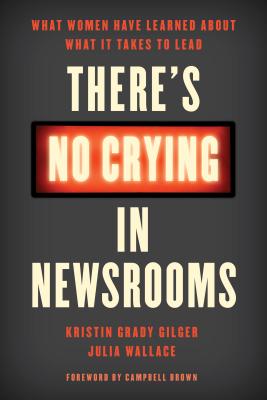 There's No Crying in Newsrooms: What Women Have Learned about What It Takes to Lead (Signed Copy) (Preorder Only) (Hardcover)
by Kristin Grady Gilger, Julia Wallace
$32.00
Description
---

Order your signed copy today and choose to pick up in-store or have it shipped directly to you.


ABOUT THE BOOK:
There's No Crying in Newsrooms tells the stories of remarkable women who broke through barrier after barrier at media organizations around the country over the past four decades. They started out as editorial assistants, fact checkers and news secretaries and ended up running multi-million-dollar news operations that determine a large part of what Americans read, view and think about the world. These women, who were calling in news stories while in labor and parking babies under their desks, never imagined that 40 years later young women entering the news business would face many of the same battles they did - only with far less willingness to put up and shut up.

The female pioneers in "There's No Crying in Newsrooms" have many lessons to teach about what it takes to succeed in media or any other male-dominated organization, and their message is more important now than ever before.
About the Author
---
Kristin Grady Gilger is Senior Associate Dean at one of the nation's leading journalism schools, the Walter Cronkite School of Journalism and Mass Communication at Arizona State University. She also serves as director of the Donald W. Reynolds National Center for Business Journalism and the National Center on Disability and Journalism, both of which are housed at the Cronkite School. Prior to joining ASU in 2002, Gilger spent 20 years in various reporting and editing roles at newspapers across the country. Julia Wallace was a top media executive and high-ranking editor at four major newspapers. She spent more than 20 years as a top editor and was the first woman editor-in-chief of the Atlanta Journal-Constitution. She was inducted into the Medill School of Journalism Hall of Achievement. In 2017, she joined the Walter Cronkite School of Journalism and Mass Communication at Arizona State University as the Frank Russell Chair.